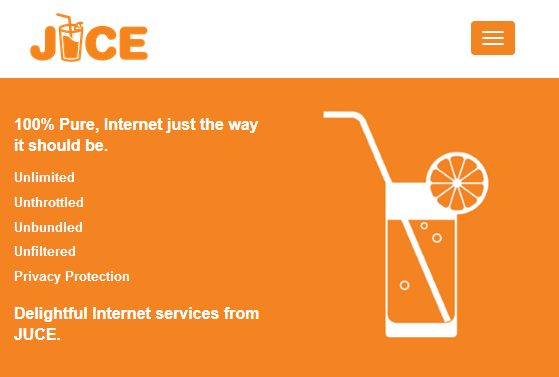 Juce is offering high speed internet service to local areas, "…throughout Vancouver Island, including Greater Victoria, Nanaimo, Duncan, Powell River, Parksville, Comox/Courtenay etc." Their packages claim to have unlimited bandwidth and an unthrottled connection.
You can read more about what they offer on their site: https://juce.ca/
Does anyone have any first-hand experience with them?
Shaw is now charging me roughly $70 per month just for Internet. No phone, no TV, just internet. I have always had good luck with Shaw but if I can cut my bill to $40/mth that wouldn't hurt my feelings either. Plus, Shaw's pricing is about to change in August of 2015 as well (source).
Right now the package I get from Shaw is called "Internet 30". You can see all their plans/stats here. Basically I get "Up to 30 Mbps down and 3 Mbps up, with 300 GB/mth bandwidth" with Shaw. Here's my Speedtest result for those that care.
Up until July 3rd, 2015 Juce is offering a similar package, "Up to 25 Mbps down and 2.5 Mbps up, with no bandwidth limits" for $40.
Juce is saying that their carrier is about to charge them more as of July 3rd, 2015 so we all should order now before the price increase and then we will be "grandfathered" in at a steady $40/mth from here on in. Here's the exact terminology from the Juce website:
*The incumbent cable carrier filed to CRTC to withdraw Cable 25 (25Mbps) plan to new customers on July 3rd, 2015. If approved, we will not be able to sell Cable 25 to new customers after July 3rd, 2015. Customers who subscribes to Cable 25 before July 3rd 2015 will be grandfathered and will keep $39.95/month price going forward and they will not be affected in anyway. In separate CRTC application, the incumbent cable carrier is seeking to set our cost for the new 30Mbps plan at 127% higher than existing 25Mbps plan. Therefore the new 30Mbps maybe priced much higher if this application is approved by CRTC. We recommend that customers wishing to purchase Cable 25 do so before July 3rd, 2015 to qualify for grandfathered status and pricing.
I suspect if I read nothing brutally negative about Juce I might just go for it. Though be warned there are transfer fees ($22), modem fees, plan change fees, modem shipping fees, and perhaps installation fees if you all ready don't have cable internet in your house. Also know that you may need your own wireless router separate from the modem for wireless service at your place. Shaw/Telus both have wireless modems… but not with Juce. For all the details, fees (nothing seems to be too alarming) and more see Juce's FAQ section on their website.