Google's own blog today posted that they are updating their results to show if a site is mobile-friendly or not. Google is rolling out these changes in the coming weeks. Their criteria for a mobile-friendly site is as follows:
Avoids software that is not common on mobile devices, like Flash
Uses text that is readable without zooming
Sizes content to the screen so users don't have to scroll horizontally or zoom
Places links far enough apart so that the correct one can be easily tapped
They seem to indicate that "better" websites that are mobile-friendly might be given higher search rankings in the future:
We see these labels as a first step in helping mobile users to have a better mobile web experience. We are also experimenting with using the mobile-friendly criteria as a ranking signal.
In the Google Developer Pages there is a tool you can use to determine how Google "sees" your site regarding mobile-friendliness. Look Ma, I passed! Check it out for yourself: Google Developer's Mobile-Friendly Test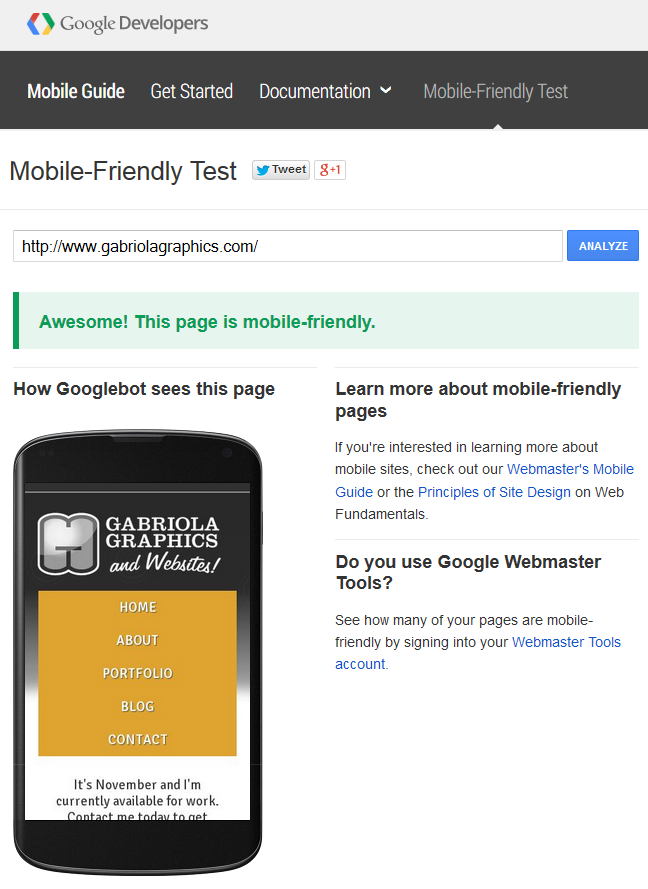 It would seem to me that much like Google's results being localized as per your geographic location (yes, two users don't see the same search results even if they search the same term or terms) it would be of similar benefit for results to be skewed in favour of optimized content for the device you are searching from. Meaning, I'm on my smart phone searching for coffee shops—I would think it beneficial for me to see local (geographically speaking) results that are mobile-friendly and optimized for the device I'm searching from. Why not? All sites can all ready tell what kind of device you are searching from. Why not give them friendly results suited for their device?