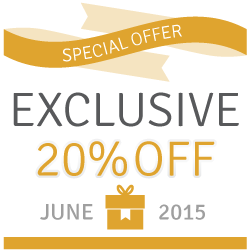 *** This offer is no longer valid. If another opportunity arises in the future I'll post a similar discount offer to the blog. ***
Hello and welcome! Want a discount on a website?
Both Allison and myself usually have a couple minor and/or major projects on the go at any one time. Right now we currently have an opening in June 2015 that I thought I would blog about to see if anyone wants to take advantage of an offer to get started on their website today!
Get a 20% discount on all website work if you are a new client and tell us you read about the discount on our blog.
I would estimate this 20% discount around a value of $160 to $700 depending on the size and functionality of your new site.
First come, first serve.
Please use our contact us page to send us a message, or if you have any questions we can help answer. Looking forward to hearing from you!
---
*The fine print:  This discount applies to any work we do for your website. It will not however include a discount on monies that we must outlay for domain name registration (if you don't already own your own domain name) and for web hosting. This offer is only valid for new website clients. If we already work with you on other projects we will happily apply this discount to a website for you.