Hopefully this helps others in their own quest for ISP bliss. Pay close attention if you happen to be on Shaw's Extreme plan from a few years back. The TL;DR* version is I live on Gabriola (near Nanaimo, Vancouver Island) and today I switched to faster internet service today and I saved a bunch of money doing so.
For many years I've been happy if not outright impressed with Shaw's service. I'm a heavy internet user (work from home). I know when there are outages or funny business going on with our network or connection with Shaw. Not only am I pleased with Shaw's up-time, but I'm also more-than-pleased by their technical support team. I get through to them quickly when I need to (I dial a local number in Nanaimo) and I really, honestly, surprisingly get someone that knows all of the answers to all of the questions I have—and speaks my language of computer geek.
OK OK… saving money and better speed. I was weighing in on an internet forum somewhere where a person was asking about Shaw vs. Telus. I was happy to add my two cents saying Shaw has been quite good for up-time, speeds and service, etc. I also mentioned I pay roughly $72 a month for this (we don't have cable, a TV, satellite or any other Shaw expenses-just internet). This is (was) for a level of service Shaw called "Extreme". They updated the names of the internet packages they offer a few years back. Well, lucky a user chimed in that I am over-paying and that the same level of service, actually better, was offered by Shaw for $60 per month. Hmmm.
So I let that niggle around in my head for a weeks, at the time commenting back to the user I'm happy with where things are at and don't want to rock the boat with Shaw, so I'll just pay the extra $10 per month. Well of course that was short lived or I wouldn't be writing would I? I thought I would call Shaw and see what they had to say… expecting all the excuses and what not that would for sure not allow me to obtain the same price/speed/package as this user was claiming. Well it turned out to be true and John from Shaw Victoria help me out.
John confirmed the price would drop to $60 per month and that my download speed and upload speed would increase. He realized I'd been paying perhaps more than I should for a while and offered me their current promotion of half-price for 6 months. Asked me to hold for a few minutes, pinged my router, upgraded my package, billing, tested my speeds and then asked if he should stay on the line while I confirm everything was good on my end, even so far as asking if I wanted to run some speed tests to confirm everything was as it should be.
All in all I'm posting this in hopes this helps others. Sharing this sort of information is how I saved a bunch from Telus too. I'll perhaps share that one day too.
Here's the package I got from Shaw currently (High Speed25 – link to Shaw)

As well, here is the result from speedtest.net (it was faster earlier but we have lots going on here currently which is using up some bandwidth).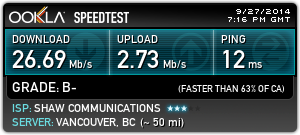 * TL;DR = Too Long; Didn't Read