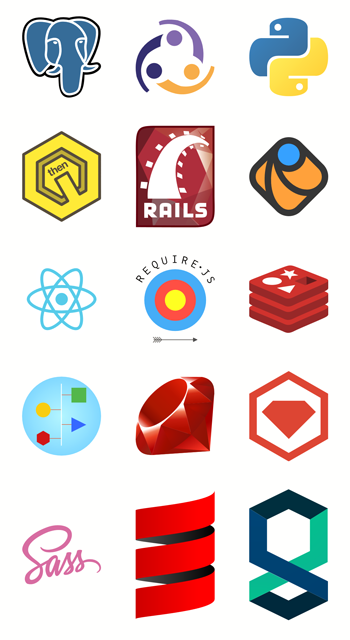 Oh yeah baby! I'm loving those colours and curves. I love your composition, balance and negative space. That's right. SVG PORN. Looking so hot on my Galaxy's 2560 x 1600 Pixel 10.5″ WQXGA Super AMOLED display. Really hot. I have to share.
SVGPORN.com has it going on. Vector logos that are rock'in SVG. Check them out.
The site is actually nice to look at (zoom in, CTRL+, as much as you like and graphics stay SHARP!) but it's also a good example of vector-based logos versus raster-based logos. Any raster-based graphic gets fuzzy when enlarged.
If Gabriola Graphics designs you a logo, it will be in vector format for this very reason. You can use a properly created vector logo at ANY size (think posters and billboards) and as well can be used online in SVG format to appear razor-sharp at any resolution.
Having your logo appear online at any resolution is actually fairly important these days with so many devices having high-quality, or super-high-quality displays. If your logo is raster-based (ex. GIF, PNG, JPG) it will likely appear blurry on any device that supports a high quality display. Check it out if you wish by zooming into our Gabriola Graphics logo. See? However large you zoom in to make the logo… it's always brilliantly sharp and clear.
If you aren't sure what the heck a vector graphic is:
Briefly explained, you can think of a vector graphic as a mathematical formula that outlines shapes and curves, and then fills those shapes with a colour or colour gradient.
Exactly like a font works. Type the letter A on your website, and you see a letter A. If you zoom way way in on that letter A it just gets bigger and bigger without getting blurry. Your web browser just takes that mathematical formula for the letter A and simply multiplies it by a factor (when zooming in) and it appears the same, just larger.
That's what is happening with your vector-based SVG logo. On screen, you see the result of the mathematical formula and colour fills that make up your logo. Multiply it by a factor of 2, 5, 500… it looks just the same, only bigger.
So why isn't every graphic you see online a vector-based SVG so that they can be viewed at any size?
Well, I suppose, theoretically it's possible. But file sizes (the amount of data it takes up on your hard drive, not the viewing size) can start to get huge pretty quickly. And when you know what a raster-based graphic is… a huge amount of pixels each with it's own colour (like a JPG photo of you and your friends for example), it would be terribly inefficient to have a "vector mathematical formula" to display such an image.
That's why JPGs tend to rule for actual photos, or graphics and photos made up of numerous colours and shapes. But for simple shapes and few colours, vector-based graphics are boss.
Now go look again at the SVGPORN.com site and you might have a better appreciation for what's going on there. Those ain't just pictures Marcy!