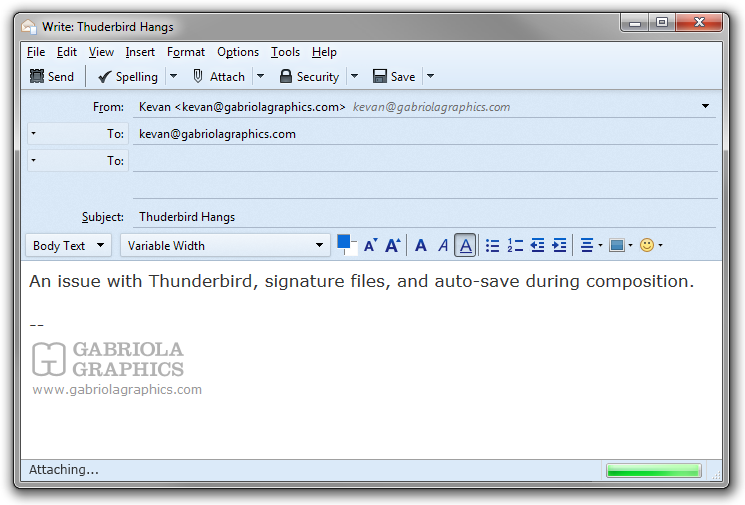 For the past year or so I've noticed something with my Thuderbird Mail Client (now version 31.4.0) that frustrates me. I have always had a quick fix solution so haven't really delved deep looking at what was going on… until now.
What was happening was that Thunderbird would not send some messages, some of the time. It would just hang there, appear to be trying and trying to send.
By not send, I mean it would sit there saying "attaching…" for a period of time, and then time out saying the message could not be sent. Hard to guess how often this was happening, but a few times a day anyway.
I have Thunderbird open all day, sending and receiving messages as I work from my home office. This last bit of info is key because if you just open your Thunderbird, type a message, and hit send, you'll never encounter the "hanging up" that I'm talking about here.
Since this started happening a while ago (through many previous versions of Thuderbird too), the first time, I just copied and pasted my message to a new email, clicked send, and it goes through without an issue. This copy and paste solution worked every time and took only a few seconds to execute, so no big deal. I dealt with it a few times a day and moved on. But… when there were forwards, attachments, inline images, reply threads, etc. the copy and paste method just got yucky… even if it was only a matter of me inputting all the addresses again (To, CC, BCC), it just became unpleasant as the software should be working like you'd think it should without any workarounds. And that's when I went searching for a proper fix or explanation as to what was going on.
I was reading in forums that people were removing inline images in their messages and reply threads, and this would fix the issue. Others were claiming that their own signature file (some using images), or people's signatures in their reply thread, would cause the same Thunderbird to hang issue. Hmmm, I thought. I was using a signature file that sourced an online image hosted on my own server.
As it turns out having a signature file referencing an online image was not the only factor in causing the problem of Thunderbird hanging. It was a two-fold issue that reared it's mysterious head when Thunderbird auto-saved my message after 5 minutes of composing the message. I could type a new message, or reply to a message within 5 minutes and have no issues at all. Though for those messages (writing, replying or forwarding) taking longer than 5 minutes to compose, once it was auto-saved, it would no longer send. Geez, no wonder it took a long time to diagnose. And, as well, no wonder the issue would only appear sporadically.
So the fix that would return me to normal, wonderful, email bliss was to disable the auto-save feature in Thunderbird. This feature can be turned off by going to the menu option Tools, then Options. Under the Composition tab you'll see under "General" a tick-box for the auto-save feature.
Hopefully this post might shed light or even solve this problem for you!
Link to the most helpful post on mozillazine for this issue, should you wish to read through it yourself.