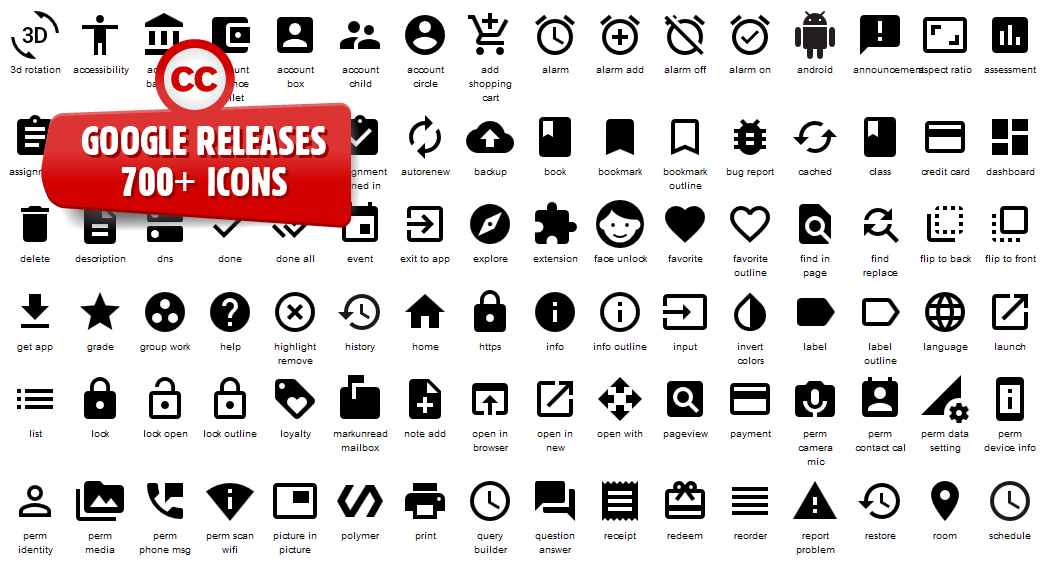 As part of Google's Material Design Project 750 icons have just been made available for you to use in your projects. They've been categorized nicely and come in many flavours:
SVG (24px and 48px versions)
PNG (1x, 2x, 3x)
CSS sprites
And even hi-dpi versions (hdpi, mdpi, xhdpi to xxxhdpi) in PNG format
You find the Material Design Icons released on their Github page:
github.com/google/material-design-icons posted under a CC BY-SA 4.0 (Attribution-ShareAlike) license.
You'll also find a few usage pointers for the sprites (CSS and SVG) on their Github page as well.
Bonus: I had heard a complaint on a forum that these were not released by Google as a font. I suspect the overhead for having many of these available just isn't worth it. If you want to use them as a font, use the website app available at IcoMoon.io to build your font by uploading the SVG's you want. IcoMoon additionally has a nice collection of icons that you can select from when you build your font. Check out their app by clicking on the IcoMoon App button in red, pick your icons (or upload your SVGs) and choose the Font button at the bottom to download. You'll get a Zip file containing the font files (eot, svg, ttf and woff) plus a demo.html page and glyph usage instructions. Many thanks IcoMoon!
UPDATE (April 2015): materialdesignicons.com also has a great selection of icons on one page where you can select one or many and download only those you want (SVG, Vector Drawables, XAML & Webfont). Looks good!
UPDATE (November 2015): Google has made available 96 NEW icons! Check out the updated blog post here: www.gabriolagraphics.com/750-free-96-new-material-design-icons-to-use-remix-or-share/