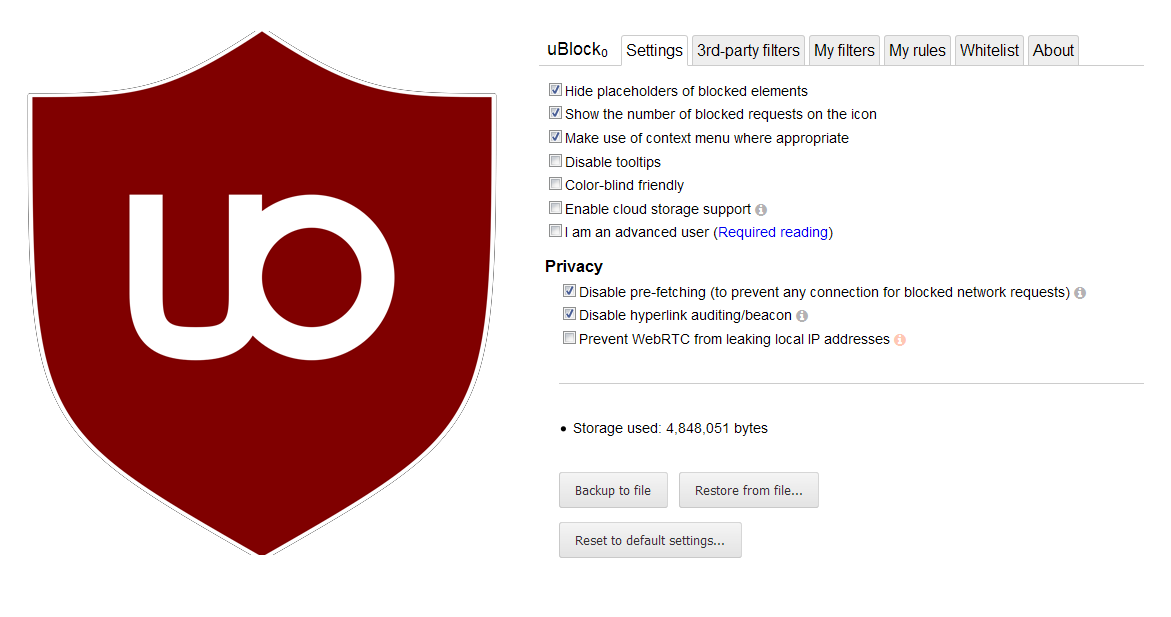 Recently after reading Smashing Magazine's Web Development Reading List #118 and finding out that AdBlock Plus might not be operating completely independently, I took their advice and am now using uBlock Origin.
It's open source software (github here) by Raymond Hill that claims to be fast and lightweight. You can read more about their benchmarks on CPU usage, Blocking and Memory performance on the github page link.
I've only been using it for a day and it looks great! Works easily right out of the box. The power of the software comes from people who maintain filter lists which tell your program what to block. You can also use many other filter lists should you wish, such as:
– Fanboy's Enhanced Tracking List
– Dan Pollock's hosts file
– hpHosts's Ad and tracking servers
– MVPS HOSTS
– Spam404
– And many others
For now, I'm just going to see how things go downloading and installing the program as an add-on to my Firefox browser with the default settings. If you're using Firefox you can visit and install the add-on here.
There are versions available for Chrome, Firefox, Opera and even Android (which I'm hoping will disable Youtube advertising so my kids don't have to see irrelevant or harmful ads when viewing kids stuff—wtf btw Youtube?).
UBlock Origin advises you don't run multiple ad blockers at the same time as uBlock blocks all the things they do all ready (source). The github page also says, "Once you install uBlock Origin, you may easily un-select any of the pre-selected filter lists if you think uBlock Origin blocks too much. For reference, Adblock Plus installs with only EasyList enabled by default."
So far so good! If I run into any weirdness, or get the success I think I might with my Android tablet I'll report back here and let you know.