When printing or exporting to a PDF from Adobe InDesign I sometimes run across pages coming out blank. I don't mean the odd blank page in the document or one or two blank pages at the end, but rather the whole document is blank, or each page is missing a large amount of information.
It happens so infrequently I usually implement some sort of manual fix like copying/pasting data to a new document. Ugggh.
Well just the other day a client asked for numbered tickets to be printed 10up on an Avery Page Template. The client had the perforated card stock at home and I was designing the tickets for him to print. No problem. Hit up Google for the InDesign template, open, paste in artwork, step-and-repeat and voila! Export to PDF… and, blank!
As it wasn't the first time I've seen the issue I decided to spend a few minutes searching for a solution.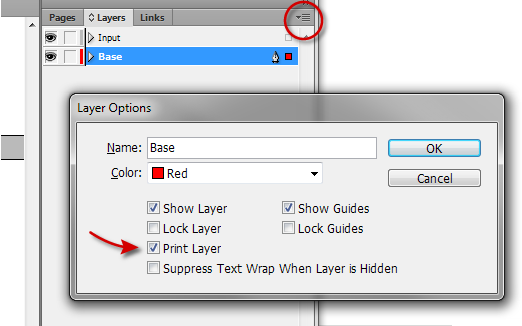 The template file I was using had set their Master Page layer to "non-printing". See, this would never happen using your own files, but when using a source file not your own it's hard to tell just what little switch they've flicked to make your life more pleasurable.
The fix: In the layers palette choose the top right Options icon (circled in red) and select "Layer Options for YOUR LAYER NAME HERE" and you'll have access to the checkbox allowing those objects on that layer to print, or not. Ahhh. Now don't you feel better knowing that.