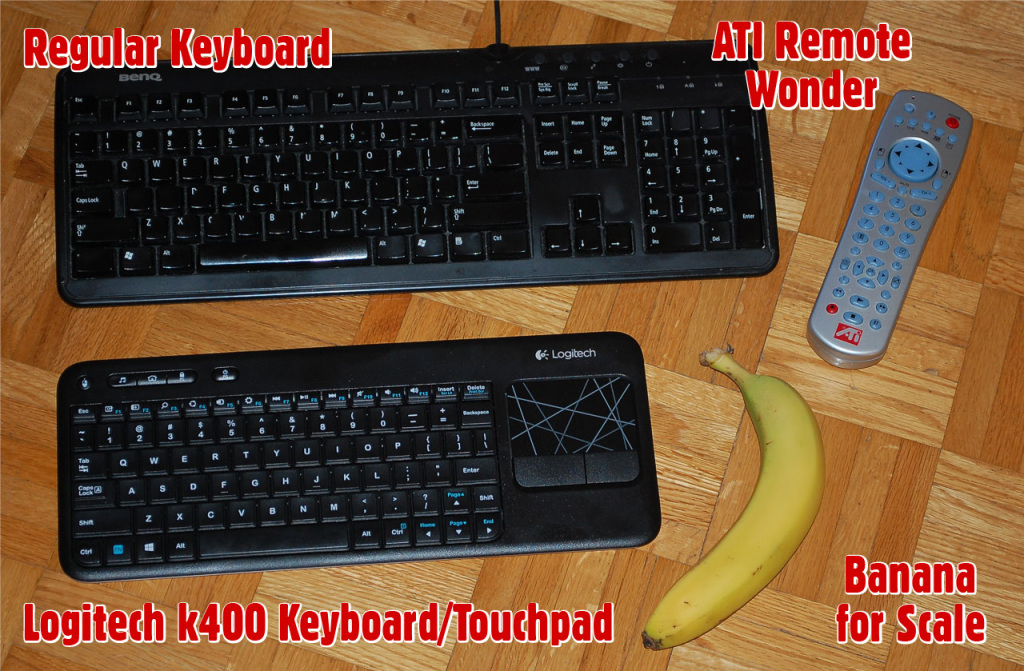 We've never owned a television. Well, except for a 12″ tiny colour TV my wife brought into our lives more than a decade ago. All of our media is played through our computers and displayed on a Samsung 27″ LCD (the S27A650D). It's not a giant 40+ inch but for the amount of media we watch it's perfect. We've "watched" this way for 6+ years now and have no need for a TV. Though we have had need for a remote control to direct the computer what to do; from the couch of course.
For the last few years we've had good experience using an old ATI Remote Wonder remote control (photo: top right). As you can see this is an actual remote-control-style handheld device. It was pretty awesome as it has 6 programmable buttons that you could program via software (a little app that sits in your system tray) to do anything you wanted; like map the button A when pushed mimic a keyboard press of CTRL-ALT-Right-Arrow, etc. This ability, in combination with VLC Media Player, and the fact that the Remote Wonder has a mouse-like pad on it for directing your mouse around the screen was pretty much all we could ask for. It did everything needed and then some. All for about $15 bucks.
Well after years now the remote is wearing out. You physically have to push harder to activate the buttons and the mouse-action of the pad isn't working as it should all the time. So I searched ebay and was about to buy another when I happened upon some keyboards at www.ncix.com (edit: 2019 – now closed!) with built-in track-pads, or touchpads. Hmmm. This got me thinking. The pad on the ATI Remote Wonder wasn't really a track-pad but rather an up down left right sort-of-thing with some diagonal movement throw in. It wasn't perfect for moving the mouse around the screen come to think about it. It worked fine, but nothing, nothing like the fluidity offered from a touch-pad.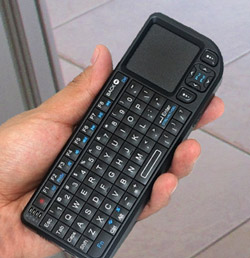 On Ncix's site I could find "mini" keyboards with touch-pads such as Rii's Wireless Mini Qwerty IR Keyboard with Track Pad (pictured at left) which seemed like it would fit our needs adequately. Though when looking at the size of this "mini" device I envisioned myself trying to push these tiny little keys and being frustrated (with my large thumbs). That's when I began specifically searching for "wireless keyboards" as the search terms and came across the Logitech k400 Wireless Touch Keyboard. An almost full-size keyboard (though compact in width, height and depth) which included a touch-pad.
I have been very pleased with Logitech's products over the years and suspected that at less than $40 I should give it a try. Part of the issue with the ATI Remote Wonder is that it came out a long time ago (10+ years ago) and the software support for newer operating systems either doesn't exist is some cases, or can be difficult to find or install. I was able to get the remote working with Windows 7 though I had to be very specific in the model and version of the ATI remote I bought. I even at one time bought a newer version of the remote (the Remote Wonder Plus) and could not get that to work with Windows 7. So my point here is that why tangle with old hardware and software when Logitech is offering a brand new, up-to-date, USB plug-and-play with a track pad that will work "wonders" over the ATI Remote Wonder?
The Logitech k400 Keyboard/Touchpad is recommended by 92% of the 26 reviews at Ncix, and received 4.3/5 stars at Amazon.com after some 5,200+ reviews garnering it the #1 Best Seller title in the category of computer keyboards.
So I chucked it in my Ncix shopping cart, ran a 10 second copy-and-paste Shopbot search to find the lowest price in Canada, copied that link, and then price-matched the item at Ncix for $33 (regular price was $39). I wrote about Shopbot.ca a month or so ago. The keyboard/touch-pad arrived and is performing beautifully.
It has a few preset function keys I find useful, like a "home" button which takes you to your default home page in your web browser, a mute, volume up and volume down button, a play/pause, next and previous track buttons too. And of course like any keyboard all of the VLC hotkey shortcuts work. Though I originally bought the "keyboard" for the touch-pad I do find it convenient at times to be able to interact fully with the computer or a website with the ability to type and not just moving the cursor around the screen (like the ATI Remote Wonder). It's a little larger that the Remote Wonder, of course , but it's still fine to have sitting around. You'll have to decide if the size is a deal breaker for you. Click the photo I took to see a large version.
The Logitech k400 Keyboard/Touch-Pad operates via a wireless connection between the keyboard and a USB dongle that comes with the package. You plug in the tiny dongle and instantly the keyboard works (Logitech claims up to 10 meters away). I'm only 10-12 feet away ever so have had zero connectivity issues so far. The wireless 2.4 GHz connection means it's not I.R. (Infra-red) operated and therefore you don't have to point the keyboard "at" anything. It just works in the vicinity of the computer.
And finally, I'll also mention that the keyboard touch-pad does support Windows 8 gestures, though with my Windows 7 the touch-pad works great as you would except regardless of "gesture" ability—super smooth, curvy flow, with a nice sensitivity where the pad itself supports a single-tap or double-tap, though the pad does have a large "left mouse button" and "right mouse button" underneath it.
So in conclusion I'm impressed so far. I'm happy the keyboard touch-pad combo is up-to-date technically speaking. I'm happy it's a Logitech product. I'm happy for the extra functionality of having a small keyboard "on" my new remote control. And lastly I'm happy I can be extra-lazy now and keep my butt on the couch that much more.
Update February 2015:
I've happened upon another Logitech Wireless Keyboard called the Logitech Illuminated Living-Room Keyboard K830 (MSRP $99 though I've seen it for $75). After watching a video or two I like that it has rechargeable batteries (charged via USB), backlit keys, and programmable keys just to name a few things.
If you are unsure whether or not this new way of couch surfing your computer is for you, you may just to wish to begin by purchasing the K400 which for 3+ months now I find to be very good at what it's supposed to do. BTW I've never turned it "off" and have yet to replace the batteries. Or if you just prefer to have your gadgets towards the higher-end of products because you can afford it, then get the K830.